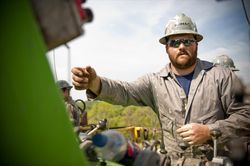 Are the majority of gas industry paychecks staying in state, or are they going out-of-state to workers imported from Texas and Oklahoma? Senator Joe Manchin recently criticized the drilling industry, saying he was looking into why some West Virginia workers could not find employment with natural gas companies.
In response, Chesapeake Energy announced that it currently employs 702 West Virginia residents and has had "great success hiring a capable local work force." Interestingly, this comes after Aubrey McClendon, CEO of Chesapeake, said last week that 30% of local applicants had failed to pass a drug screening (See Frack Check post from January 23, 2011)
As part of a plan to create qualified West Virginia workers, Pierpont Community and Technical College in Fairmont, WV is providing The International Association of Drilling Contractors Rig Hand certification.  Classes start February 7 and tuition is $500 for five classes.
Click here to read the full discussion in The Intelligencer/Wheeling News-Register…