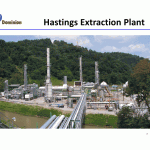 Chesapeake has been under the eye of Senator Joe Manchin and others;  but,  claims of over 700 local workers provides few clues about the number of local workers in the future.  Are qualified local workers hard to find, or does it depend upon what qualifications are required? 
Drilling rigs and fracking crews are still in demand, pipeline projects for gathering lines and transmission lines continue to be developed, and new gas separation/processing plants are under construction.  Of these, the gas processing plants offer the greatest long-term employment outlook, giving a working crew of perhaps 55  plant employees jobs for decades.  These processing plants can separate ethane, propane, butanes and natural gasoline from the "wet" gas of the local Marcellus wells.
 The Hastings plant of Dominion in Wetzel County has operated for decades, currently producing some 560,000 gallons per day of natural gas liquids.  Caiman Energy has just completed one of three plants at Ft. Beeler in Marshall County.  And, Dominion has just announced a new plant for the Natrium site north of New Martinsville on the Ohio River to process 300 million cubic feet of "wet" gas per day.  The surge in employment during the drilling and construction phases will likely moderate to a few hundred jobs in operations, and this is dependent upon the price of natural gas and the by-product natural gas liquids.