Water
The safety of our drinking water and the health of aquatic ecosytems must be protected from the threats created by hydrofracking activity.
WATER WITHDRAWALS
Water withdrawals of fresh water from our streams and rivers is currently unregulated.  This is a problem because a single frack job can consume 5 million gallons of fresh water, and that water is being sucked out of our streams and rivers.   The loss of fresh(er) water from streams feeding our rivers means that some of the beneficial effect of dilution is lost.  Pollutants from other industries (coal, power, etc) are therefore more concentrated at our public water intakes on rivers. Public treatment plants do not remove most pollutants such as salts, chemicals and heavy metals.  Thus the pollutants pass through the system and out our taps.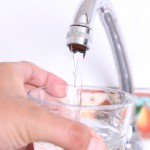 Another issue is the impairment of aquatic life in those streams used to provide water for fracking.  Water is being removed in quantities sufficient to reduce the flow of the stream to a level that cannot sustain a healthy community  of fish and insects.   Even headwater streams have been employed as a water source.   A dam is employed to create a pool, a hose is inserted and then water is pulled out, leaving the stream running almost dry.   In addition, sediment and erosion damage occurs.  A very dramatic example of this is a stream in Wetzel County called Blake Run.   A limestone roadway now shares the space that the streambed inhabits.
DISPOSAL OF FRACK WASTEWATER
Approximately 10-40% of the frack fluid injected underground is recovered.  This translates into about 3 million gallons per frack job which must be trucked away, at no small expense,and disposed of at a deep well injection site in WV or Ohio.  Yet no record of the ultimate disposition of this toxic load is currently required of the industry…..no way to ascertain that a load of waste water arrived at it's intended destination.  Clearly this leaves room for misdeeds.   This wastewater not only contains the chemicals added to the frack fluid by the drilling company, but Mother Nature's own added toxins. In addition to natural gas, Marcellus shale contains arsenic, mercury, thallium, chromium, and other heavy metals.  These combine with the frack fluid and are withdrawn in the waste water which is removed from the well after it has been fracked and prior to gas collection.   Waste water also carries above background levels of radioactive materials which are again a natural condition of Marcellus shale.
FRACKING CHEMICALS
Disclosure of fracking chemical ingredients was exempted from the Clean Water Act by an act of Congress which came to be known as the Halliburton Loophole.  Here is a list of chemicals released by the EPA.