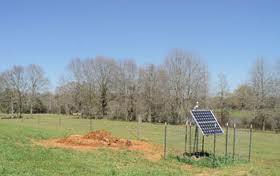 WV Public Radio reported this past Thursday on the EarthScope program of the Incorporated Research Institutions for Seismology (IRIS) with assistance from the National Science Foundation.  In 2004, EarthScope began installing small seismic stations on a grid across the continental US, and since then they've been systematically moving the array across the country from west to east.
 Thirteen or 14 stations will be installed in WV this summer. The stations remain in given locations for two years. EarthScope is looking for landowners in specific areas across the state who would be willing to participate.
Senior research geologist Ron McDowell from the WV Geologic and Economic Survey recently attended a meeting to learn more about the effort. "They are pretty much self-contained once they're in the ground," McDowell says. "You don't do much more to them. Someone may come out and change batteries every once in a while, but they send data through satellite phone or by internet connection and the EarthScope people take care of all of that."
Installation takes about three days. First a 6 foot hole is dug four feet wide. A plastic tank is placed in the hole and cement is poured into the bottom to create a sealed container. On the second day seismograph electronics, sensor, and communication equipment are installed. The third day is for testing and to recondition the landscape.  See this document for more information.
McDowell said  the data these instruments provide will be very useful since our current understanding the crust beneath the state and region is very limited. "One of the questions regarding the earthquake that happened in Virginia, 'Why are we feeling it on this side of the Appalachians?' It has to do with how that energy gets transmitted through the crust," McDowell explains.  McDowell says the WV Geologic and Economic Survey is also looking to invest in a smaller, portable array of seismic monitors that can be used to gauge various areas in the state more specifically.