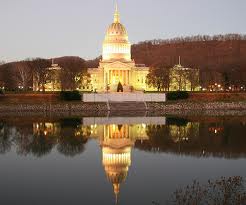 The Joint Select Committee on Marcellus Shale is scheduled for meetings Monday at 8 a.m. and Thursday at 3 p.m. during the November interim sessions, according to Co-Chairs Tim Manchin (Delegate-Marion) and Douglas Facemire (Senator-Braxton). This committee is currently working on four amendments that still remain pending for proposed regulation of the industry.
According to the state legislative Web site, four amendments to the Marcellus shale legislation are still pending while more than 20 have already been adopted. The four amendments remaining for consideration are (a) inspector qualifications, (b) karst (limestone) formations, (c) permit considerations, and (d) surface owner issues.
On Monday at 2 p.m., the Secretary of
Energy Advisory Board
will host a conference call on its recommendations to state and federal agencies in regard to shale gas drilling.
U.S. Sen. Joe Manchin, D-W.Va., will be hosting a Senate Energy and Natural Resources field hearing at 9 a.m. Monday at the Robert C. Byrd Federal Courthouse regarding Marcellus shale development. No other U.S. senators on the committee are expected to attend. The scheduled speakers are:
 
· Anthony Cugini, director, National Energy Technology Laboratory
· Jon Capacasa, director, Water Protection Div.  Region 3, US EPA
· James Coleman, task leader, Energy Resources Program, U.S. Geological Survey
· Kurt Dettinger, general counsel , Office of the Governor
· Randy Huffman, cabinet secretary, West Virginia DEP
· Tim Manchin, delegate, West Virginia Legislature
· Doug Facemire, state senator, West Virginia Legislature
· Tom Witt, Director, Business and Economic Research, WVU
· Scott Rotruck,v.p. of corporate development, Chesapeake Energy
· Kevin West, managing director, external affairs, EQT Corporation
· Don Garvin, legislative coordinator, WV Environmental Council