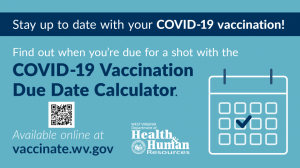 COVID-19 on the rise, but by how much?
EDITORIAL in The Morgantown Dominion Post, July 21, 2022
Regular readers may have noticed the DP newspaper no longer display COVID-19 case numbers on the front page, nor do we include vaccine/testing information on A-2.
The explanation for the latter is the simplest, so we'll start there. In early June, Gov. Jim Justice announced the state would scale back community testing. The Mon County Health Department has discontinued its public testing and vaccine clinics, including the one at the WVU Rec Center. However, that doesn't mean they've stopped offering vaccines and testing completely.
If you need to be vaccinated for COVID or get a booster, you can make an appointment with the MCHD by going to book.novelhealth.ai/MCHDC or by calling 304-598-5119. The health department has also been doing pop-up vaccine clinics across the county. Visit their website or Facebook page for times, dates and locations.
You can also pick up at-home tests 8:30 a.m. to 4:30 p.m. weekdays from the MCHD — just use the upper level entrance. If you do an at-home test and test positive for COVID, the health department asks that you please report your result by calling 304-598-5100.
Which leads us to why The Dominion Post no longer publishes COVID numbers.
The prevalence of at-home testing — and distinct lack of reporting — means that the Department of Health and Human Resource's COVID dashboard is no longer an accurate portrayal of COVID in the state. Although its hospitalization — and likely its death — numbers are fairly representative, its total cases figure is much lower than reality.
The dashboard still updates daily with the figures that are available, such as data from hospitals and positive cases as reported to county health departments — hence, why it is so important to report your positive at-home test results.
Knowing that case numbers are higher than reported just makes the news COVID is on the rise even scarier. At the time of this writing, there were 3,221 active cases and 299 hospitalizations, with 41 in the ICU and 14 on ventilators. This includes 12 children, four of whom are in the ICU. West Virginia's death toll has passed 7,000.
B.A.5 (a subvariant of omicron) is the latest strain to sweep through the nation and the state. COVID czar Dr. Clay Marsh said last week it's the most infectious variant to date, and its spreading fast. In about two weeks, from the end of June to the beginning of July, B.A.5 went from 1% of cases to 33%, making it the predominant strain. This latest variant also seems to be particularly skilled at avoiding antibodies. Many people who have previously had COVID are getting re-infected and even many vaccinated individuals are catching this one. In that same press conference, Marsh warned that other countries with older populations, like Japan and New Zealand, saw death tolls rise after B.A.5 struck.
As we watch the case numbers rise — and see more and more people we know fall ill — we can't help but be disappointed that West Virginia rolled back its tracking and preventative measures. We're sure community testing wasn't cheap for the state to maintain, but it ensured that more results were accurately recorded. That, in turn, gave us all a clearer picture of COVID's spread through our communities and made it possible to adjust public policy as needed to contain the contagion. Unfortunately, the state's response has become lackadaisical, and too many people have decided life should return to pre-pandemic normal.
We understand that life can't stand still forever, nor should it. There are everyday errands to run, important events to celebrate, once-in-a-lifetime opportunities to explore. It is possible to live with COVID — but doing so doesn't mean pretending COVID doesn't exist. Rather, it means living a little more carefully: wearing a mask when appropriate, limiting chances of exposure, testing and reporting positive results, staying isolated if symptomatic and getting vaccinated and boosted.
COVID isn't like the monster in your closet or under your bed; it doesn't go away just because you tell yourself it's not there. See also the WV state website here.