Denied Bail, Scientist Emma Smart Goes on Hunger Strike After Arrest at Climate Protest in UK
From an Article by Jake Johnson, Common Dreams, April 15, 2022
Scientist Emma Smart went on a hunger strike Thursday after she was denied bail by London authorities while awaiting a court hearing on charges of "criminal damage," which were filed after Smart and others glued scientific papers and themselves to a U.K. government building to protest destructive climate policies.
Smart, an ecologist, was arrested alongside fellow scientists earlier this week as they took part in a global nonviolent mobilization aimed at pressuring world leaders to stop expanding fossil fuel production in the face of intensifying climate chaos.
The U.S. National Oceanic and Atmospheric Administration (NOAA) released new research Thursday ranking last month as Earth's fifth-warmest March in 143 years and warning that Antarctic sea ice coverage has shrunk to a "near-record low."
According to a series of tweets posted to Smart's personal Twitter account, "she has been held in a permanently lit single cell with no window for over 40 hours" while her allies with Scientists for Extinction Rebellion were released on bail. Smart has been refusing both food and water since Thursday morning.
Smart's court hearing is set for Saturday, Extinction Rebellion said in a press release. Showing solidarity with Smart and protesting her detention, scientists gathered Friday for a vigil on the steps of Charing Cross Police Station in London, where she's being held, as youth climate strikers held their weekly demonstrations around the world.
Andy Smith, Smart's husband, said in a statement Friday that "this was a minor crime with no disruption to the public."
"Her treatment is disproportionate to her crime," Smith continued. "What kind of world do we live in when scientists are forced to put themselves into positions of arrest and hunger strike to be heard? And why has she not been released?"
"Emma knows what's at stake if we don't stop fossil fuel investments and she is taking a stand for her nieces' future and all those around the world suffering now from this crisis. Everyone must stand with her now and come out on the streets to show the government that change is coming whether they like it or not."
Smart is one of dozens of scientists who have been arrested across the globe in recent days as climate experts—dismayed by governments' continued refusal to heed their warnings—turn to direct action.
"The fact that Emma is being held beyond the usual 24 hours shows that the U.K. government is effectively at war with climate science," said Pete Knapp, an air-quality scientist with Scientists for Extinction Rebellion. "They would rather lock up and silence experts sounding the alarm than do their duty and protect the public from catastrophic climate change."
"The science is totally clear: we must not drill for new oil and gas," said Knapp. "Instead we must move to clean energy as quickly as possible. But our government only last week declared it will license new fossil fuel exploration in spite of repeated and dire warnings from scientists that this will lead to disaster. This is the flagrant dereliction of duty that Emma is calling out, and they are locking her up for it."
#######+++++++#######+++++++########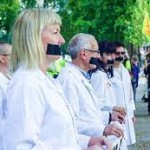 Former ecologist Emma Smart talks to Emma Wrake AMRSB about her recent arrest at an Extinction Rebellion protest, and why more and more scientists are joining the activist group
From the Royal Society of Biology, London, April 15, 2022
Earlier this month, Emma Smart became the latest member of 'XR Scientists' (a group of scientists and former scientists within the Extinction Rebellion Activist movement) to be arrested. Footage shows her attempting to give a speech outside the Department of Health in London about the impact of animal agriculture on ecosystems and public health, before being surrounded by police. After refusing to move her protest to Parliament Square, she was then lead away and arrested, and police confiscated her speech, loudspeaker and microphone.
Smart, who spent nine years working to conserve freshwater species in the Middle East and discovered a new species of Arabian freshwater fish (Garra Smarti), says she became disillusioned with what she could achieve in conservation through research and NGOs, and has been an activist for the past year.
The XR Scientists group now has over 250 active members, some of whom were featured in a Biologist article on science and activism in June. Smart is currently challenging her arrest and says the police are using powers to thwart protests and 'gag' scientists from speaking at protests. "I once believed the people making decisions would listen to scientists – that is not true"