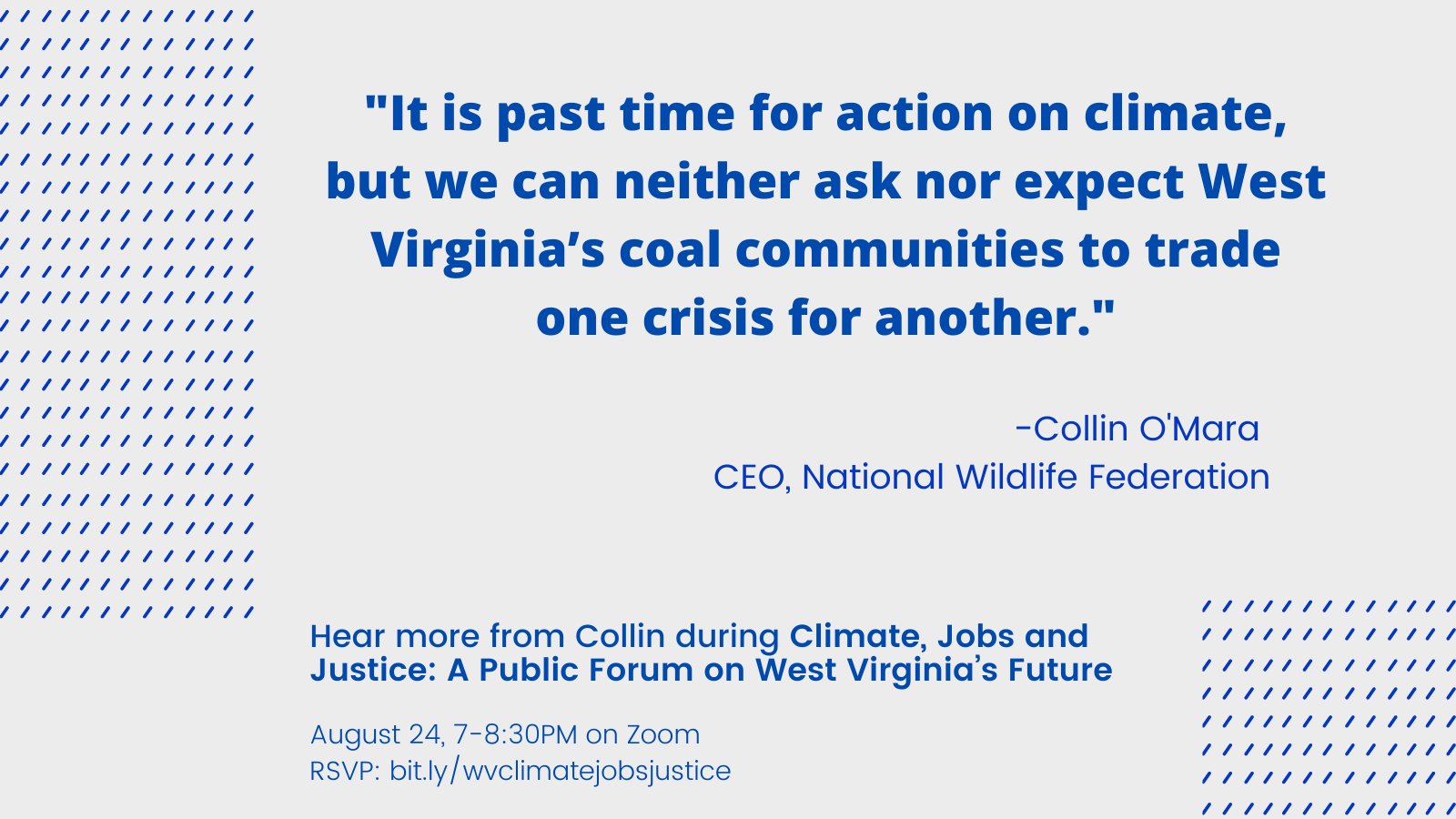 Invitation to Virtual Climate, Jobs and Justice Public Forum on August 24th
From the West Virginia Rivers Coalition — 20 Listed Co-Sponsors*
On Tuesday, August 24, from 7:00-8:30PM join Collin O'Mara, President and CEO of the National Wildlife Federation, and leading environmental and policy experts in West Virginia to learn what Congress is considering to address the climate crisis and what it means for West Virginians.
Collin will be joined by Pam Nixon of the West Virginia NAACP, Jeremy Richardson of the Union of Concerned Scientists, and Sean O'Leary of the Ohio River Valley Institute to explore ideas like:
• Will Congress' actions be enough to reduce the impacts of climate change?
• How can I be involved in shaping climate policy?
• How can West Virginia benefit from climate policy?
Advanced registration is required. Register here.
What: Climate, Jobs and Justice: A Public Forum on West Virginia's Future
When: Tuesday, August 24, 7:00PM – 8:30PM
Where: Virtually on Zoom
>>>>>>………………>>>>>>………………>>>>>>
* — Co-sponsors include: Chesapeake Climate Action Network, Citizens' Climate Lobby West Virginia, Corazon Latino, League of Woman Voters West Virginia, Mid-Ohio Valley Climate Action, Mom's Clean Air Force, Ohio Valley Rivers Institute, NAACP of West Virginia, ReImagine Appalachia, Solar United Neighbors West Virginia, West Virginia Interfaith Power and Light, West Virginia Center on Climate Change, West Virginia Climate Alliance, West Virginia Council of Churches, West Virginia Climate Alliance, West Virginia Citizen Action Education Fund, West Virginia Environmental Council, West Virginia Highlands Conservancy, West Virginia Rivers Coalition, West Virginia Sierra Club.