Message From the Editorial Board of DeSmog Blog, Worldwide Web
From the Letter of Brendan DeMelle, Executive Director, DeSmog Blog, May 8, 2021
More than 40 cities have enacted bans on new gas infrastructure, but in the Pacific Northwest one company is trying a new tactic to head off climate policy. In recent months, Oregon utility Northwest Natural has been promoting its use of "renewable natural gas" — methane captured from places like landfills and repurposed into energy for homes. Its push to promote its green image comes on the heels of a contentious effort by officials to require carbon emissions reductions from the company. Read Nick Cunningham's story.
Meanwhile, a new government report highlights federal failures to oversee offshore drilling. The report found that 97 percent of the time, existing regulations on environmental protection and cleanup are not enforced. More proposed rules to fix the broken regulatory system, however, are a distraction from the real issue of the government failing to hold the oil industry accountable, argues Justin Mikulka.
Finally, this week five environmental groups filed a lawsuit in a Montana federal court alleging that the way the U.S. Army Corps of Engineers issues permits for oil and gas pipelines nationwide violates some of the country's cornerstone environmental laws. The lawsuit is the most recent round in a nearly decade-long battle, sparked under the Obama administration, over how regulators approach the environmental impacts from oil and gas pipelines and the extent to which the public gets a say in the permitting process. Sharon Kelly reports.
Have a story tip or feedback? Get in touch: editor@desmogblog.com.
Thanks, Brendan DeMelle, Executive Director, DeSmog Blog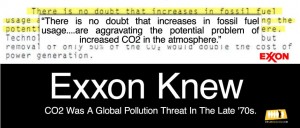 P.S. Readers like you make it possible for DeSmog to hold accountable powerful people in industry and government. Even a $10 or $20 donation helps support DeSmog's investigative journalism.