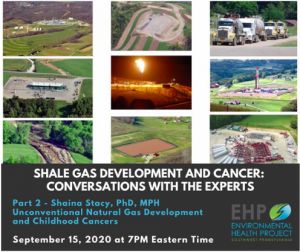 Unconventional Natural Gas Development and Childhood Cancers
From an Announcement of SW PA Environmental Health Project, September 14, 2020
Join Southwest Pennsylvania Environmental Health Project, Tuesday, September 15 at 7PM for part two of their three-part webinar series about shale gas development and cancer.
For part two of the series, Dr. Shaina Stacy will discuss "Unconventional Natural Gas Development and Childhood Cancers."
Dr. Shaina Stacy is a postdoctoral associate at the University of Pittsburgh Graduate School of Public Health, where she investigates early life and environmental risk factors for childhood cancers. She received her Ph.D. and M.P.H. from Pitt Public Health's Department of Environmental & Occupational Health.
#################################
The Toxic Story of Plastics with Dr. Randi Pokladnik
DATE & TIME: Wednesday, September 16th @ 6:30 p.m
Via Zoom, the Dover (Ohio) Public Library will host a program about the toxicity of plastics featuring Ohio Valley Environmental Coalition volunteer Dr. Randi Pokladnik, an expert in environmental studies.
With her "The Toxic Story of Plastics" presentation, Randi will explain the life cycle of plastic production and follow plastics from cradle to grave, examining all the externalities involved and how plastics affect human health and the environment.
To register for the program, send an email to:
srieger@doverlibrary.org
You will receive a link to join the group for the presentation.
The "life cycle" of plastic is a complicated one. In the beginning oil and gas must be extracted from the earth and refined. This material is then used to manufacture products for human consumption such as furniture, bottles, tires, to name a few. After the plastic has been used, it ends up in the waste-management system (recycling) or in the environment (landfills or oceans). No matter what stage of life the plastic is in, human beings are exposed to toxic chemicals.
Plastics and related chemicals enter people's bodies through inhalation, ingestion and skin contact. These chemicals and particles of plastic affect every major system in the body: cardiovascular, reproductive, neurological, respiratory, gastrointestinal and endocrine.
#############################
Air Monitoring and Emergency Systems Program
DATE & TIME: Wednesday, September 16th, 7:00 pm
The next event series listed here kicks off this Wednesday and it is titled Health and Safety in Beaver County, hosted by Beaver County Marcellus Awareness Community, or BCMAC. These are folks who live near the Shell ethane cracker being constructed in Beaver County, PA. This Wednesday's event features expert presentations on air monitoring and emergency systems and will surely become a resource.
Click here to register for Wednesday's Zoom event,
and please help spread the word by sharing the link:
This kick-off event for the Health & Safety in Beaver County series will discuss air monitoring systems in the region, citizen experiences and emergency management systems designed to keep the public safe.
Don't miss the panel of experts and important discussion!
Welcome and Overview: Bob Schmetzer
Moderator: Sr. Kari
SPEAKERS
>> Citizen Experiences: Karen Gdula and Barbara Goblick, Marcia Lehman/Chlorine Fire
>> Air Monitoring Overview: Ana Hoffman, Carnegie Mellon University
>> Shell Fenceline Monitoring: Adam Kron, Environmental Integrity Project and Karl Koerner, Clean Air Council
>> Citizen Tools: Mark Dixon (Purple Air, RAMP, AirVis VOC, Summa canisters)
>> Emergency Response: Eric Brewer, Beaver Emergency Management
>> Live Panel with Public Q&A: Sr. Kari