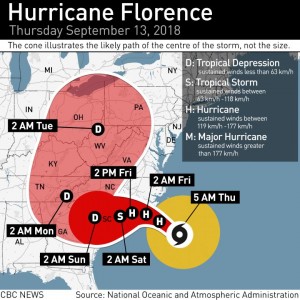 Dear Concerned Citizens, September 13, 2018
North Carolina is my home —— Hurricane Florence is at our doorstep. And I am furious.
If you're in the path of the storm, stop reading and get yourself and your family to safety. But if you're outside the impacted region, it's time to get to work.
A million and a half people here and along the Southeast coast have just been ordered to evacuate their homes because a climate change-fueled superstorm is hurtling their way, and our elected leaders were too deep in the fossil fuel industry's pockets to do anything to stop it.
With climate disasters like Florence putting millions of lives at risk, we can't afford more deadly denial — we need real climate leaders, now. Pledge to vote for climate champions in this critical year.
Instead of heeding warnings of our state's vulnerability to the impacts of climate change, big polluter-backed Republican legislators here in North Carolina have spent the last several years ignoring and even outlawing the use of climate science to prepare us for moments exactly like this one.
In South Carolina, state legislators are still refusing to evacuate a prison squarely in Florence's path, putting more than 650 incarcerated people's lives at risk. And in both states, runoff from coal ash and hog waste poses a major riskto the mostly low-income communities and people of color living nearby.
The ugly message these politicians are sending couldn't be clearer: corporate polluters' profits are more important than their most vulnerable constituents' lives.
It's time to elect people who will stand up for our communities instead of fossil fuel billionaires. Can you sign up here to commit to vote for the climate leaders we need in 2018?
And climate injustice doesn't stop at the doors of the White House: Trump just deliberately took $10 million of public funding away from FEMA disaster recovery and gave it to ICE — the agency that is unjustly detaining and deporting immigrants, taking thousands of children from their parents at the border, and putting refugees in jail.
Like I said, I'm furious. But here's what's giving me hope alongside my anger: There are hundreds of candidates running for office up and down the ballot — from Public Utilities Commissions to the Senate — who are ready to stand up to big polluter billionaires and fight for visionary policies like a Green New Deal that will help us and our planet thrive. Now, it's up to you to help elect those leaders.
Pledge to vote this November for progressive leaders who will take the action required to slow the climate crisis. We'll follow up soon with ways you can take your pledge to the streets and the ballot box.
I know talking politics while a storm is surging can feel impolite, but we can't afford not to call out climate denial when climate disasters hit. Politeness, thoughts and prayers don't bring justice in the face of disaster. But we've got our voices, our votes and our vision, and we're going to use them all to turn our anger into action.
Onward, Jenny Marienau – 350 Action
PS: Communities in Florence's path will need support preparing for the storm and recovering from its impacts. There's a list of organizations on the ground that would benefit from your donations here — please give what you can.
###################
Sources and more information:
>>> "North Carolina politicians have decried the climate-change science that makes Hurricane Florence so deadly"
>>> Vox: "South Carolina won't evacuate a prison in Hurricane Florence's path"
>>> CBS: "Hurricane Florence could flood hog manure pits, coal ash dumps in North Carolina"
>>> NPR: "Trump Administration Transferred $9.8 Million from FEMA to ICE"
>>> 350 Action: 2018 Endorsements
### — This message has been authorized by 350 Action, 20 Jay St, Suite 732, Brooklyn, NY 11201, May Boeve, Executive Director.