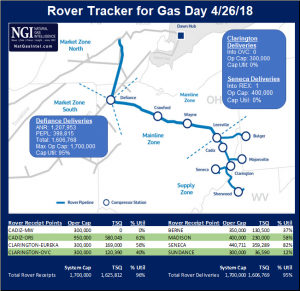 Rover Gets Limited FERC OK to Start Up Mainline Compressor 3, Segment
From an Article by Jeremiah Shelor, NGI Shale Daily, April 26, 2018
FERC on Wednesday gave Rover Pipeline LLC the green light to ramp up part of its second and final phase, bringing the 3.25 Bcf/d Appalachian natural gas takeaway project a step closer to full service, although the authorization was not expected to increase throughput capacity on the pipe.
Federal Energy Regulatory Commission staff authorized Rover to begin service on the Mainline Compressor Station 3 and the segment of its Mainline B running between the second and third of Rover's mainline compressors [CP15-93].
The order partially grants a request submitted April 13, with Rover's Defiance Compressor Station, Market Segment and Vector Delivery Meter Station still awaiting FERC's approval. The in-service request for the other facilities is still under evaluation, according to FERC.
In March, FERC staff took issue with delays in the completion of restoration work at Rover's Mainline 1 and Mainline 2 compressors, warning that future in-service authorizations could be impacted.
Rover's February request to start up its Burgettstown Lateral to southwestern Pennsylvania has gone more than two months without an affirmative response from the Commission.
"Wednesday's authorization is not expected to add additional throughput to Rover's current roughly 2 Bcf/d capacity levels, as the newly authorized section of Mainline B is located in central Ohio, and will be capped at either end by sections of pipe restricted to only one operational mainline," Genscape Inc. analysts Colette Breshears and Vanessa Witte said in a note to clients.
The 713-mile Rover project is designed to connect additional volumes of Marcellus and Utica shale gas to markets in the Midwest, Gulf Coast and Canada. The project has recently been transporting around 1.6-1.7 Bcf/d east-to-west across Ohio to interconnects with the ANR and Panhandle Eastern pipelines, according to NGI's Rover Tracker.
In an update to its project website Wednesday, Rover said it has completed 98% of the horizontal direction drills needed for the pipeline, with total project construction now 99% complete.