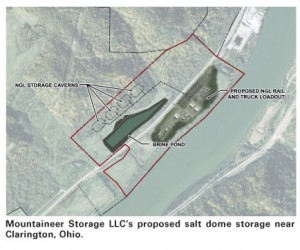 Monroe County Gas Storage Facility Seeks Expedited ODNR Permit
From an Article by Janell Hunter, Wheeling Intelligencer, November 7, 2017
A natural gas liquids storage company based in Colorado has hired Scott Pleskonko of Moundsville to be its local development facilitator as it seeks permits from the Ohio Division of Natural Resources to build a facility in Clarington.
Pleskonko updated the Monroe County Board of Commissioners on Monday about the proposed Mountaineer NGL Storage facility, which is considered a critical component for industrial development for the region. It will be particularly important to the proposed PTT Global Chemical ethane cracker plant in Belmont County.
The project will use subsurface salt formations to store ethane, propane, butane and other products. Pleskonko said David Hooker, managing director of Mountaineer NGL Storage, has been in touch with officials at both Royal Dutch Shell and PTT Global Chemical and found that both organizations are "very interested" in using the facility.
"The Marcellus Shale and the Utica Shale below it have surprised the entire industry and are fast becoming the next super-producers of natural gas supply in this country, but there is a dire need for reliable storage solutions," Hooker said.
Pleskonko said the project continues to move forward, although at a slower pace than expected. He said an underground injection control program permit has been filed but has not yet been approved by ODNR.
"Right now we are into the project with about $20 million of expenditures — engineering, test wells, land acquisition, all those things," Pleskonko said. "Where we are at really now is trying to resolve the rest of the permit issues."
The permitting for the brine impoundment was initially rejected by the ODNR, but steps are being taken to correct the issues that led to its rejection, according to Pleskonko.
"Most of the issues are getting resolved. It takes some time to work through those. Clearly, three of the four are resolved, and the fourth issue is we need to supply them with some data on the type of soil above the impoundment to make sure there are no problems with a potential hillside slip."
The company has identified sites for core boring to supply the needed data and plans to resubmit the permit for the impoundment by late November. Plesonko said the company hopes the permits will be in place by the second quarter of next year, at which time construction could begin.
"Tentatively, if things go well, we would have a 2019 startup date," he said.
Monroe County Economic Development Representative Jason Hamman said he would draft a letter for the commissioners to sign that would be sent to ODNR in support of expediting the permit.