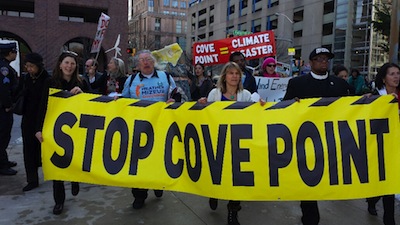 Important Public Hearing on Dominion's Pollution Permit on Air Pollution at Cove Point
From Food & Water Watch, September 24, 2017
Date: Monday, October 2, 2017
Time: 6:00 PM – 12:00 AM
Location: Patuxent High School
12485 Southern Connector Blvd.
Lusby, MD 20657
When Dominion's Cove Point LNG terminal was approved, they were given pollution limitations by the state. Now they're trying to renegotiate to further pollute our community.  
The MARYLAND Public Service Commission is holding a hearing on Monday, October 2, to get community input on Dominion's pollution permit. If granted, Dominion would be allowed to emit more than eight times the volatile organic compounds than currently — a major threat to public health. 
We need to stand together and show the Public Service Commission that our air and water must take priority over Dominion's profits — and demand that they deny the permit. 
If you want to protect our air from Dominion's pollution, we need you there on October 2.
Interested in speaking or submitting testimony at the event?
Please email Donny with We Are Cove Point,
donny@wearecovepoint.org, for more information.