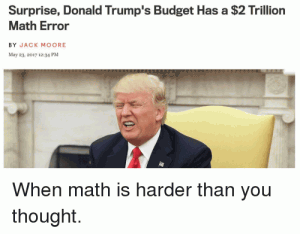 "Trump's budget a mixed bag for energy sector"
From an Article by James Osborne, Houston Chronicle, May 23, 2017
WASHINGTON – From selling off oil in the strategic petroleum reserve to cutting funding for renewable energy research, the Trump administration on Tuesday proposed a new course for financing the nation's energy sector as it seeks to balance the federal budget.
At the Department of Energy, where Secretary Rick Perry has promised an "all of the above" strategy to developing the nation's energy supply, research funding would plunge by 18 percent overall. Neither nuclear nor fossil fuel research was spared in the Trump plan, but Office of Energy Efficiency and Renewable Energy took a disproportionate hit, with its $636 million proposed budget representing an 70 percent drop from 2016.
"This budget delivers on the promise to reprioritize spending in order to carry out DOE's core functions efficiently and effectively while also being fiscally responsible and respectful to the American taxpayer," Energy Secretary Rick Perry said in a statement.
The cuts are part of a $4.1 trillion budget plan that looks to reduce spending into researching new forms of energy while simultaneously growing federal revenues from domestic oil and gas production. Among the ways it seeks to boost those revenues is to stop sharing royalty payments from offshore oil and gas drilling with Texas and other states along the Gulf of the Mexico.
The funds are set aside under the law to protect the Gulf coastline, with money directed toward maintaining levees, providing hurricane relief and preventing further erosion of wetlands that are fast disappearing along the Gulf. It drew an angry reaction not just from Gulf Coast politicians, but from the oil and gas industry itself.
"This budget robs Louisiana of financial resources promised to us for coastal restoration," said Louisiana Governor John Bel Edwards, a Democrat.
"Eliminating Gulf state revenue sharing for offshore energy production would punish coastal states that support and host the development of home-grown energy and jobs," said Randall Luthi, president of the National Ocean Industries Association, a trade group representing the offshore energy industry.
The White House estimated the move would save $275 million next year and $3.6 billion over the next decade. But some officials expressed uncertainty whether eliminating royalty sharing would save the government as much as the White House claimed.
Texas was slated to receive up to $80 million of next year's allocation, but an official from the Texas General Land Office, which administers the funds, said the agency is only budgeting $12 million because of low oil prices.
The president's budget is considered a starting point from which to begin a lengthy budget process that will ultimately be decided by the House and Senate.
Rep. Gene Green, D-Houston, said he did not expect the president would receive much support for the proposal to stop royalty sharing. "That's probably the worst thing on a bipartisan basis we would propose," he said. "I don't think it will be considered."
The energy proposals come as part of a Trump budget that seeks to slash discretionary spending while lowering federal taxes. White House Budget Director Mick Mulvaney on Monday described the proposal as a "taxpayer first budget."
Within the administration, increasing the federal share of oil and gas royalties is viewed as a necessary tool towards balancing budget over the next decade. The administration hopes to generate an additional $1.8 billion over the next decade by opening up oil and gas drilling in the Arctic National Wildlife Refuge in northeastern Alaska.
Over the same period they hope to add another $16.6 billion in revenue by selling off oil from the Strategic Petroleum Reserve.
The prospect of drilling for oil and gas in ANWR, one of the country's last untouched wilderness areas, has drawn fierce opposition since it was first proposed by former President George W. Bush. That provided another reason for environmentalists to fight the White House budget, which included a 31 percent cut at the Environmental Protection Agency
"President Donald J. Trump should keep his hands off the clean air and water, majestic public lands, and thriving wildlife that communities across the country expect our government to safeguard," said Gene Karpinski, president of the League of Conservation Voters.