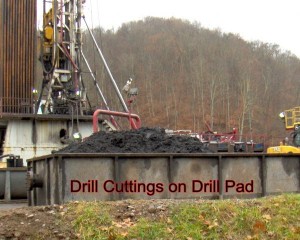 Fracking Waste Disposal Still A Question
Article by Glynis Board and Ashton Marra, WV Public Broadcasting, March 10, 2014
The House and Senate have spent weeks working on House Bill 4411 dealing with the disposal of hydraulic fracturing drill cuttings in land fills. Earlier in the session, the House of Delegates held a public hearing on the issue. But members could not agree on the terms of the bill and late Saturday evening it ended up in a conference committee.
The conference agreement came down to this: landfills who want to accept drill cuttings from fracking sites must apply for permits from the Department of Environmental Protection and the Public Service Commission. So far, seven are in the process of doing so.
Those seven would be the only landfills allowed to apply for the permits for two years. They must put radon detectors at their front gates to test trucks, cannot mix the drill cuttings with municipal waste and must charge a $1 fee per ton they accept. The first $750 thousand collected will go toward a study on the waste due to the Joint Committee on Government and Finance next year.
That agreement, however, did not make it to the clerks' desks in time to be put to a vote and the bill died, leaving no legislative restrictions on these cuttings and their disposal.
See also the very informative Video Clip in this Article.
>>>>>>>>>>>>>>>>>>>>>>>>>>>>>>>>>>>>>>>>>>>>>>>
W.Va. bill to regulate gas drilling waste on hold
From an Article of the Associated Press (Charleston Gazette), March 10, 2014
CHARLESTON, W.Va. — A bill to regulate the disposal of waste produced by gas-well drilling will likely be introduced by West Virginia Gov. Earl Ray Tomblin in a special session. Lawmakers who negotiated a version both sides could agree on were unable to get the measure passed before midnight Saturday, the deadline for the regular session.
The bill would allow only seven landfills in West Virginia that have already applied to do so to create a separate area on their properties where they could store the waste. Those landfills are located in the Northern Panhandle and Northwest portion of the state.
Sen. Herb Snyder, D-Jefferson, said the bill is a huge environmental protection for the state. As it stands, the measure calls for drillings to be separated from other waste and monitored for radioactivity. "By September of this year, the waste cannot be mixed with other trash and must be put in a separate cell, and radioactivity monitors add a tremendous amount of protection over what is being done today," said Snyder. "We have learned a lot by looking at what was done in Pennsylvania and looking at the problems they were having.' Snyder said the studies will examine what types of metals are in the waste in addition to their level of radioactivity.
Currently, in depth studies on drilling waste have not been conducted in West Virginia. Snyder said some Department of Environmental Protection studies were conducted after the Natural Gas Horizontal Well Act; however, the Legislature determined these studies were incomplete and not sufficient, he said.