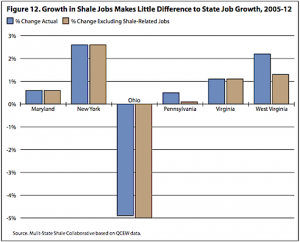 Six-State Study Confirms Job Numbers Exaggerated by Fracking Industry
From the Article by Policy Matters Ohio, November 21, 2013
Drilling in the six states that span the Marcellus and Utica Shale formations has produced far fewer new jobs than the industry and its supporters claim, according to a report released today by the Multi-State Shale Research Collaborative, a group of state-level research organizations tracking the impacts of shale drilling.
"Industry supporters have exaggerated the jobs impact in order to minimize or avoid altogether taxation, regulation and even careful examination of shale drilling," said Frank Mauro, executive director of the Fiscal Policy Institute in New York.
Shale drilling has created jobs, particularly in Pennsylvania and West Virginia, and cushioned some drilling-intensive areas in those states from the worst effects of the Great Recession and the weak recovery. As this report documents, however, the number of shale jobs created is far below industry claims and remains a small share of overall employment.
"This report shows very few shale-related jobs created in Ohio," said Amanda Woodrum, energy researcher at Policy Matters Ohio. "If Pennsylvania and West Virginia are indicators of what we can expect in Ohio, employment in Ohio's shale industry will continue to be very modest."
"Shale drilling has made little difference in job growth in any of the six states we studied," said Stephen Herzenberg, executive director of the Keystone Research Center in Pennsylvania. "We know this because we now have data on what happened, not what industry supporters hoped would happen."
Recent trends are consistent with the boom and bust pattern that has characterized extractive industries for decades. It also points to the need for state and local policymakers to collaborate to enact policies that serve the public interest.
"West Virginia, Pennsylvania and Ohio have a long history with the 'resource curse' of coal and oil extraction that has provided wealth for a few but left a legacy of environmental degradation and poverty in their wake," said Herzenberg. "Pennsylvania and its neighbors must not repeat the mistakes of the past."
"While shale development has been important to West Virginia's ongoing economic recovery, it is less than one percent of the state's employment mix," said Ted Boettner, executive director of  theWest Virginia Center on Budget & Policy. "This means policymakers need to make the important public investments in higher education and workforce development that will diversify our economy and make it stronger over the long-term."
"To paraphrase John Kennedy, policymakers approaching shale issues should 'ask not what you can do for your gas company, ask what you can do for your state,'" said Mauro.