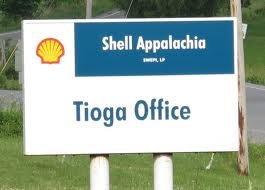 With $24 Billion Already Invested in the U. S., and Losses of $2 Billion, Royal Dutch Shell is Shuffling & Studying
From an Article by Scott Detrow / StateImpact — Pennsylvania / October 7, 2013
Shell's outgoing CEO Peter Voser tells the Financial Times of London that he regrets the company's large investment into U.S. shale.
In an exit interview with the Financial Times, outgoing Royal Dutch Shell CEO Peter Voser says the company has yet to profit from its $24 billion investment into "unconventional" shale oil and gas in the United States.
Voser's comments come just a little more than a week after Shell announced it would be selling its stake in Texas' Eagle Ford Shale and after a $2 billion write down on its shale assets. Voser told the Financial Times that company was disappointed by the results of exploration in U.S. shale beds.
This may not be good news for Pennsylvania where Shell has been actively drilling in Tioga County and has proposed building a gas processing plant called an ethane cracker in Beaver County. In August, the company announced it was going out to bid for suppliers as part of an ongoing site evaluation process. But in an e-mail to StateImpact Pennsylvania, a Shell spokeswoman downplayed the news as merely a project update. The deadline for bids was on Friday, October 4 and the company is not expected to make a final decision until next year.
Governor Tom Corbett has high hopes for the project and is doing what he can to convince Shell to seal the deal by pushing for large tax breaks and touting the thousands of jobs it could bring to western Pennsylvania.
>>>>>>>>>>>>>>>>>>>>>>>>>>>>>>>>>>>>>>>>>>>
Know Your Drillers – Shell (Royal Dutch Shell)
 From "Frack University" via Occupy the Hollers, October 18. 2013
Shell has a 5:6 violation-to-well ratio. Out of 603 wells drilled, we found that Shell subsidiaries, East Resources Inc., East Resources Mgmt. LLC and SWEPI LP, were cited for 494 violations by PA DEP.
90 percent of Shell's violations were environmental in nature. Out of 494 violations, we identified 443 that were environmental in nature, which have, or are likely to cause harm to the environment.
Shell has been cited for a casing failure rate of about one percent of wells for a total of six citations. It is important to note that well casings are meant to protect aquifers from contamination by chemicals used in the hydraulic fracturing, or "fracking" , process. 
Shell was cited violations 45 times for Improper Construction of Waste Impoundments, 37 times for Faulty Pollution Prevention Practices, 25 times for Discharge of Industrial Waste. This presents imminent danger to surface and ground water supplies.