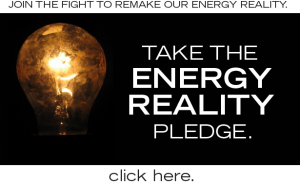 ENERGY REALITY — Post Carbon Institute
Greetings, have you visited the Energy Reality website lately at www.energy-reality.org.
We've shared 24 newly-released essays from ENERGY: Overdevelopment and the Delusion of Endless Growth with you, on topics like peak oil, rarely discussed challenges of alternative energy, false solutions to our energy predicament (clean coal, hydrofracking) and more.  These essays by provocative thinkers in the fields of energy, society, and ecology are available for your online reading pleasure, as well as free downloading. 
Get them now. Get them here. And share them with your friends and family. 
But wait – there's more! We'll release an additional essay every week through summer  – you can find out first by staying tuned on our Facebook page. 
Ready to help increase energy literacy? Join the campaign by clicking the link here.
Thanks for your support,
 Leslie Moyer, Energy Reality Campaign Director
POST CARBON INSTITUTE
Founded in 2003, Post Carbon Institute is focused on the transition to a more resilient, equitable, and sustainable world. The Mission — The Post Carbon Institute provides individuals, communities, businesses, and governments with the resources needed to understand and respond to the interrelated economic, energy, environmental, and equity crises that define the 21st century. We envision a world of resilient communities and re-localized economies that thrive within ecological bounds.