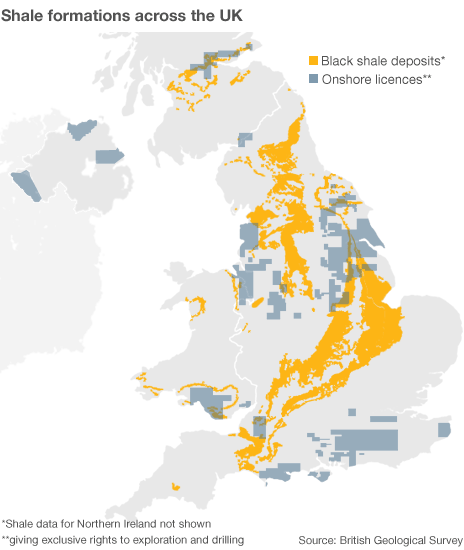 Shell C.E.O. Peter Voser Warns Europe to 'Stay Competitive'
From Report by John Moylan, UK – BBC, June 6, 2013
The head of oil giant Shell has told the BBC that Europe faces a growing struggle to compete with the US economy. Royal Dutch Shell's chief executive Peter Voser told the BBC's John Moylan that the challenge in Europe was "to stay competitive".
Cheap energy released by the process of fracking has revolutionised the US energy market. Gas and oil discoveries in shale rock have led to a boom in gas and oil production in recent years dramatically reducing gas prices.
+++++++++++++++++++++++++++++++++++++++
UK Shale Gas Bonanza 'Not Assured'
From Article By Roger Harrabin, UK – BBC, April 26, 2013
Shale gas possibility: Will the UK's energy strategy follow the US?
Shale gas in the UK could help secure domestic energy supplies but may not bring down prices, Members of Parliament (MPs) report.
The US boom in shale gas has brought energy prices tumbling and revitalised heavy industry, but the Energy and Climate Change Committee warns conditions are different in Britain.
The MPs say the UK's shale gas developers will face technological uncertainties with different geology. And public opinion may also be more sceptical, they add. The UK is a more densely populated landscape, and shale gas operations will be closer to settlements as a consequence.
What is more, the extent of recoverable resources in the UK is also unknown, so the report concludes that it is too soon to say whether shale gas will achieve US-style levels of success.
Tony Bosworth, from Friends of the Earth, responded: "This does little to back the case for a UK shale gas revolution."Fracking is dirty and unnecessary – it's little wonder so many communities are in opposition. We should be building an affordable power system based on our abundant clean energy from the wind, waves and sun."