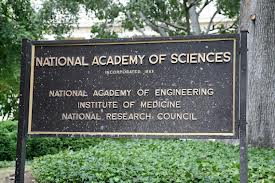 Public Input Requested on Risks of Shale Drilling & Fracking
The National Research Council of The National Academies (National Academy of Sciences, National Academy of Engineering, and Institute of Medicine) is conducting a project to look into the risks associated with extracting natural gas from shale deposits using technologies of horizontal drilling and hydraulic fracturing (commonly called fracking).  The project is supported by the National Science Foundation.
About the Project
Scientists involved in the project will summarize available knowledge about risks of fracking and about ways such risks might be effectively and consistently managed. Our hope is to advance understanding and help to better inform national discussions about the future use of fracking technologies.
The first step in this project is to identify the range of issues about fracking that concern Americans. To do this, we have examined research and news reports, and through this message, we are canvassing a wide-range of potentially concerned individuals and groups across the nation that may have concerns about issues related to fracking. We want to learn about public concerns because we believe that science should address those concerns. We also want to identify fracking-related issues or concerns about which people would like to learn more. The National Research Council will use this input to help choose the issues its project will address.
Although we will not be able to address all the issues and concerns that are raised, we will commission papers to summarize the scientific knowledge on selected issues and have the papers presented and discussed at two workshops this year. The workshops will be open to the public, space permitting, and they will be webcast. The papers and presentations from the workshops will be made available to anyone on the project's website. More information about the project is already available there, and updated information will be posted periodically and at the end of the project.
Please Submit Replies
We are interested in your concerns about any aspect of fracking, including the technologies, the ways they are or may be used, the effects of their use, the ways they are or may be regulated, etc.
We invite you to submit your concerns by entering them in the boxes below.  We encourage you to submit as many concerns as you have, and to share this invitation with others in your community or organization. However, this is not a scientific survey. We are not trying to find out which concerns are most common.  Also, our interest at this point is in learning what people's concerns are rather than in getting ideas about how to address the concerns.
Your input is very important to us and we are grateful for your taking the time to respond. A few questions ask about you, but your responses will remain completely anonymous. We want to reach as many people as possible who may have concerns about fracking or want to know more about fracking. For that reason, we are distributing this email request widely and we encourage you to forward it to people you think would be concerned and likely to participate. We would appreciate receiving responses by March 19, 2013.
Thank you,  Paul C. Stern (Study Director) and Professor Mitchell Small, Carnegie Mellon University (Study Chairperson)
Comments and Input Requested:  http://fluidsurveys.com/s/nrc/