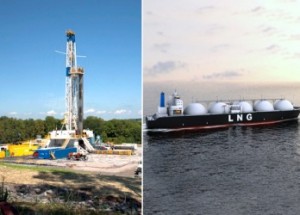 Huge Flaws Exposed in Natural Gas LNG Export Report 
From EcoWatch, December 17th
According to a press release from U.S. Rep. Ed Markey (D-Mass.), a report submitted to the Department of Energy on the impacts of natural gas exports uses two-year-old data and makes other key missteps. Rep. Markey, Ranking Member of the Natural Resources Committee, pointed this out in a comprehensive critique of the study sent to DOE Secretary Steven Chu.
According to Markey, the critique comes as some are using the flawed report to advocate for a national policy on natural gas exports that could send huge percentages of the domestic fuel to foreign markets—raising prices for American consumers and businesses.
"I was disappointed to find fundamental flaws with the study that I fear may have led to conclusions that severely underestimate the negative impacts of large-scale natural gas exporting," Rep. Markey writes to Secretary Chu. "Given the important role this study may play in determining U.S. natural gas export policy, I strongly urge that the study's methodology be reevaluated in some key areas, that the most recent projection data available be utilized in the model, and that the model be re-run and re-analyzed."
In the letter to US DOE Secretary Steven Chu, Rep. Ed Markey points out major flaws in the report conducted by NERA Economic Consulting, including:
NERA's model used energy projection data published in 2010, a time when the full extent of the shale gas revolution and its impact on America's electric, manufacturing, and transportation sectors was not fully understood. This old data badly underestimates the growth that has already occurred in domestic natural gas demand as well as demand that is expected in the future. For example, the data used by NERA projected that natural gas use in the U.S. power sector would actually decline between 2010 and 2020. In reality, natural gas use in the power sector has already grown by 27 percent since 2010, and the latest EIA projections are that it will grow 11 percent between 2010 and 2020. The 2012 report was available, and now the 2013 version has been released, but 2010 data was inexplicably used instead.
The report used an analysis of the Waxman-Markey climate and energy bill that passed the House in 2009, but misinterpreted both the bill and the analysis. The bill protected energy-intensive industries like steel and plastics that might have incurred extra costs in a carbon-constrained world, but unfettered natural gas exports would provide no such protections for American industries, putting domestic jobs at risk. NERA said they could not analyze the sector-by-sector impacts of natural gas exports, even though the Waxman-Markey study they misinterpret does exactly that.
The NERA report fails to assess the relative economic impacts associated with domestic industrial utilization of natural gas compared to exporting, and it made inaccurate assumptions regarding who would benefit through exporting. The report does not account for the very narrow distribution of income resulting from natural gas exports and investments held in gas companies, and does not do a full analysis of the impacts on American jobs.
"The flaws in the NERA study indicate that we still have a long way to go before we can be confident that large-scale LNG exporting is truly in America's interest and can be done in a way that protects American consumers and manufacturers," writes Rep. Markey. "It is critical that policy makers and the American people have a true understanding of the full impacts of exporting domestically produced natural gas before the Department moves forward in granting additional LNG export permits."
Visit EcoWatch's FRACKING page for more related news on this topic.