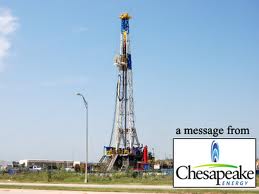 Chesapeake Energy Offers Buyouts
Primary Article by Anya Litvak, Reporter for the Pittsburgh Business Times, December 14th
Chesapeake Energy, the largest lease holder in the Marcellus Shale region, is asking 275 of its employees to voluntarily leave the company.
The voluntary separation program is "part of the company's ongoing efforts to improve efficiencies and reduce costs," a company statement announced.
Chesapeake employees have 45 days to mull it over, and those who take the offer will leave beginning in February.
Earlier this week, the Chesapeake Energy announced it was selling its Marcellus and Utica midstream assets for $2.16 billion, along with infrastructure in several other shale plays in an effort to better its financial position.  This sale is to a corporate entity known as ACCESS.
This article is also accessible at Businessweek, which can be seen at this web-site.