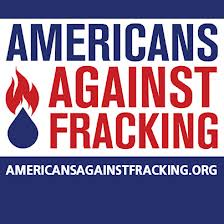 Source: Americans Against Fracking
A group of more than 100 public health, consumer, environmental and faith-based organizations announced today the launch of Americans Against Fracking, a national coalition dedicated to banning hydraulic fracturing, or fracking, and drilling associated with fracking for oil and natural gas in the U.S. Including organizations such as 350.org, Berks Gas Truth, Breast Cancer Action, CREDO Action, Catskill Mountain Keeper, Center for Biological Diversity, Delaware Riverkeeper Network, Democracy for America, Food & Water Watch, Frack Action, Frack-Free Stark County, Illinois People's Action and National Nurses United, Americans Against Fracking supports federal state and local efforts to ban fracking and to stop practices that facilitate fracking like natural gas exports, frac-sand mining and pipeline construction.
"Over and over, we've seen fracking and drilling for oil and natural gas contaminate water supplies, pollute our air and industrialize rural communities," said Food & Water Watch Executive Director Wenonah Hauter. "With the oil and gas industry enjoying so many exemptions from key environmental laws, it's clear that we can't regulate ourselves away from this problem. We need to ban fracking now."
Zack Malitz, campaign manager at CREDO Action said, "There is no federal legislation or adequate state legislation to protect Americans. We can't afford to wait for the government to play legislative catch-up with this rapidly expanding toxic industry. The only safe course is a national ban on fracking."
An increasingly controversial form of oil and gas extraction, fracking is the process of taking millions of gallons of water, mixing it with tens of thousands of gallons of chemicals–including known carcinogens–and pumping it all underground at extreme pressure to break up rock formations and release oil or natural gas. New techniques and technologies used in the process are more intensive and riskier than conventional drilling, making fracking more dangerous than ever. To date, more than 1,000 reported cases of water contamination have been associated with drilling and fracking.
"Fracking fouls our air, our water, and our climate," said Rose Braz, the Center for Biological Diversity's climate campaign director. "To avoid catastrophic climate change, we need to embrace conservation and clean energy—not focus on risky new ways to drain every last drop of the planet's oil and gas. We need to ban fracking to protect our planet."
"Since 2005 when the Bush-Cheney Administration ushered in fracking across the United States by giving the gas industry exemptions from all major federal environmental protections, fracking has been polluting the air we breathe, contaminating the water we drink, and tearing apart the communities we love. Americans Against Fracking will end this horrific era and stop the oil and gas industry from destroying more American lives," explained Julia Walsh, campaign director of Frack Action.
Fracking brings rampant environmental and economic problems to rural communities. Recent studies show that methane leakage from gas wells and carbon dioxide from the combustion of gas contribute to global warming pollution, and lead to more extreme weather including catastrophic drought, fires and superstorms. A recent report by the International Energy Agency confirmed that oil and natural gas development would ultimately spell disaster for the climate.
Elevated levels of smog and other airborne pollutants, including some carcinogens, plague regions with heavy drilling and fracking. Research shows that long lasting exposure to smog has been linked to various cancers, heart disease, diabetes and premature deaths in adults, and to asthma, premature birth and cognitive deficits in children.
Communities in regions with drilling and fracking also face increased demand on emergency and other social services and job losses in other sectors of the economy such as agriculture and tourism. A 2011 study by the Keystone Research Center also found that the oil and gas industry is exaggerating the capacity of shale gas development to generate jobs and economic opportunity for Americans.
Given these and other concerns, backlash against fracking and drilling is increasing. To date, 300 municipalities in the U.S., as well as Vermont, Bulgaria and France, have passed resolutions to stop fracking. Last month, Longmont, Colorado made history as the first town in Colorado to ban fracking despite the fact that the oil and gas industry poured half a million dollars into opposing the successful ballot measure. Last year, activists successfully blocked a plan to open the Delaware River to fracking.
"Communities are suffering where gas drilling is occurring but the industry is racing ahead, oblivious to the health impacts and indelible environmental pollution they are leaving behind. We are all standing up to the industry and their supporters with a unified message—fracking must stop and the industry must be made accountable now." concluded Maya van Rossum, the Delaware Riverkeeper, representing the Delaware Riverkeeper Network.
Visit EcoWatch's FRACKING page for more related news on this topic.