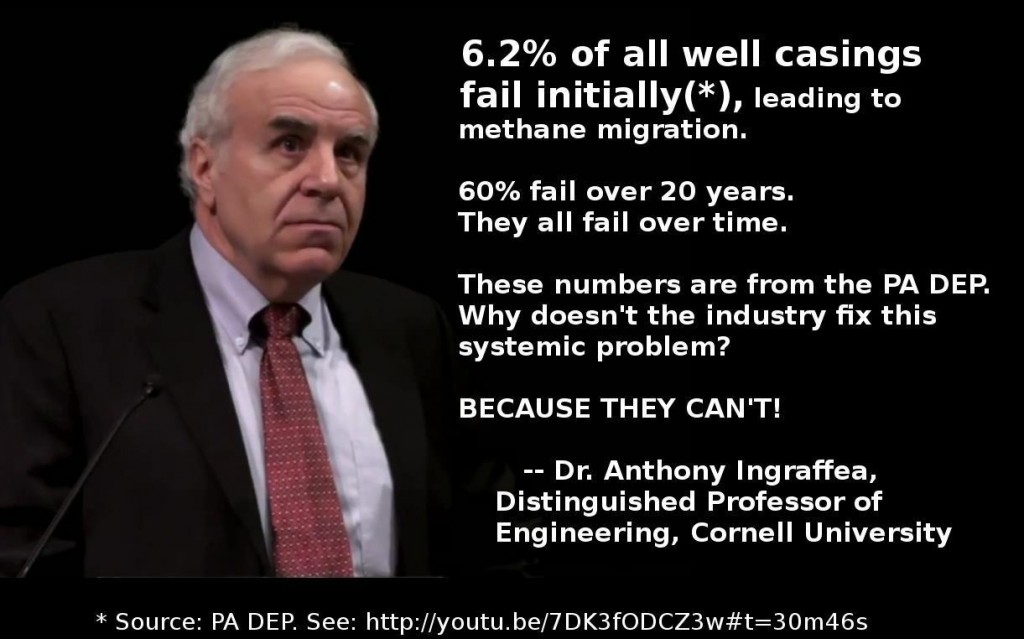 From: The Business Journal, Youngstown, Ohio.
YOUNGSTOWN, OH – 10/30/12
"Unconventional Gas Development from Shale Plays: Myths and Realities" is the topic of a presentation November 7th at Youngstown State University. The speaker is Anthony R. Ingraffea, the Dwight C. Baum professor of engineering in the School of Civil and Environmental Engineering at Cornell University.
Ingraffea will make his presentation via a live video conference to be followed by a question-and-answer session. The presentation will explore some myths and realities concerning large-scale development of natural gas deposits in shale plays in the Northeast.
These concern the geology of the plays and the resulting development and use of directional drilling; high-volume, slickwater hydraulic fracturing; multi-well clustered pad arrangements; the effects of these technologies on waste production and disposal; and contamination of water supplies. The presentation will also explore the cumulative effects of gas development on greenhouse gases emited into the atmosphere.
Ingraffea, a Weiss Presidential Teaching Fellow at Cornell, did research and development there for the oil and gas industry for 25 years, specializing in hydraulic fracture simulations and pipeline safety. He twice won the National Research Council/U.S. National Committee for Rock Mechanics Award for Research in Rock Mechanics.
The presentation is sponsored by the Office of the Provost, the James Dale Ethics Center, the College of Science Technology Engineering and Mathematics, the Department of Civil/Environmental & Chemical Engineering and the Department of Geological & Environmental Sciences.
The presentation, free and open to the public, will begin at 7:30 p.m. in Room 1171 of Williamson Hall.