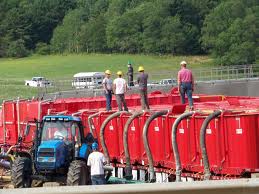 "We have come down to the wire," said Delegate Tim Manchin (D-Marion). "I think the public really wants and deserves a bill."  An unusual Sunday morning session of the Joint Select Committee on Marcellus Shale has been set for Charleston, prior to a regular Interim Session of the Legislature. The meeting seeks to work out four proposed amendments, including likely contentious language to protect and compensate surface landowners and expand the ability of state regulators to deny new drilling permits when appropriate.
"Why should we listen to some professor theorize about jobs when we can have the hard data about the jobs?" Delegate Tim Manchin said. "If jobs are the reason why our people should be inconvenienced by roads and trucks and scarring of the land, why shouldn't we know how many jobs?"  Manchin said he's been told industry officials and some Senate committee members want to slow down that process.  "We're going to miss any chance of having a special session," Manchin said. "I'm deeply concerned, but cautiously optimistic."  See the status of the SB-424 bill here.
Gas industry spokesmen have said there are things in the amendments to SB-424 that they oppose. But environmental groups have warned about impacts, and the WV-DEP has agreed it needs more staff and tougher rules to regulate new horizontal drilling and hydraulic fracking techniques that involve much larger operations and more complex permits. Surface landowners from around the state have also told horror stories about having their property invaded and damaged by drilling operations. And new studies are questioning whether natural gas really has the greenhouse gas advantages over coal that have been cited in the past.