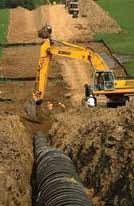 Chesapeake Energy Corp. said this past week that it will ship 75,000 barrels per day of ethane in the Enterprise Products Partners LP's proposed ethane pipeline from northeastern states to the Gulf Coast. With an initial capacity of 125,000 barrels per day,  it can be expanded and will charge about 15 cents per gallon. It will deliver ethane from the Marcellus and Utica shale formations of Pennsylvania, West Virginia and Ohio about 1,230 miles to a storage complex at Mont Belvieu, Texas.  Operation could begin in early 2014.
WV State Commerce Secretary Keith Burdette said Chesapeake Energy's decision to transport about 75,000 barrels of ethane per day from the Marcellus and Utica shales could be detrimental to the Mountain State's effort to attract an ethane cracker facility – and the jobs that come with it. "They're sending a cracker's worth (of ethane) down there," he said. "That's going to run at least one cracker down there. Our argument is that it should have been here first." Burdette said the timing was very poor for a state that is trying to attract ethane cracking facilities. Meanwhile, Burdette said, the state "will persevere."
Another proposed pipeline project to move ethane extracted in Pennsylvania and West Virginia to markets in Louisiana or Texas didn't get the interest its promoters were hoping. El Paso Corp., which formed a joint venture with Spectra Energy to pursue MEPS, or the Marcellus Ethane Pipeline System, announced in its quarterly report that a binding open season to solicit interest from shippers fell flat and the companies won't be moving forward with the pipeline at this time.