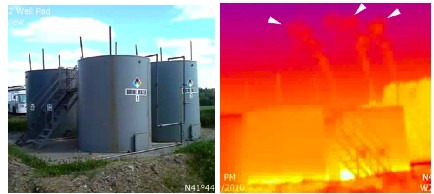 An air monitoring study by Pennsylvania's DEP concluded that emissions from Marcellus Shale natural gas operations in Northeast Pennsylvania do not pose a risk to human health in the short term.  Potential cumulative impacts, like a lifetime cancer risk analysis, require a long-term study of at least one year.
The study was conducted at four drilling sites in Susquehanna county from August to October.  Found in samples were the basic components of natural gas: methane, butane, propane, ethane, as well as CO, the gasoline additive methy tertiary butyl ether, and the odor-producing compound methyl mercaptan.
A similar study was conducted in North Central Pennsylvania's Washington and Greene counties. Those results are currently being analyzed.