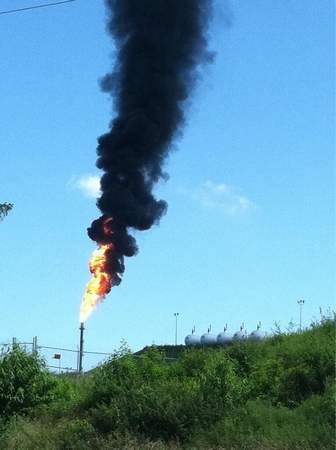 MarkWest Cryogenic Plant Flare Pollution 
From an Article by Emily Petsko and Mike Jones, Washington (PA) Observer-Reporter, August 23, 2013
Photo: Flames and thick black smoke from a flare stack were visible in mid-July at the MarkWest cryogenic gas plant.  
LOCATION:  PA Route 519 northwest of Houston, Washington County, PA. 
People living near MarkWest's natural gas processing plant in Chartiers Township are losing patience with the company after another flaring incident at the site on August 22, 2013.
Suzanne Bastien, who lives less than two miles from the MarkWest plant, said she saw black smoke billowing from the flaring tower from 11 a.m. to 7:30 p.m. on August 22nd, which she documented with her camera. Bastien said she and her husband have seen flaring there for four or five years, but the last two instances have been particularly bad.
"My eyes were burning, my throat was burning and I was nauseated when I got in the house. You could taste a metallic taste in your mouth," Bastien said of the smoke from August 22nd. "It just kind of hung in the air, which made it even worse. I don't necessarily want to be an activist, but this is getting to the point where we're really worried about our health."
 It's at least the third flaring incident at the plant in the past six weeks, prompting the PA Department of Environmental Protection (DEP) to investigate the problem and mandate the company submit a plan to rectify the issue. Company officials said the first flaring incident July 14 and 15 was from the installation of a new de-ethanizer that apparently was not operating correctly and causing the smoke.
MarkWest spokesman Robert McHale said this recent incident was caused by a "system disruption and loss of power" at the plant that triggered safety systems to direct natural gas liquid to be burned off in the flare. He said they continue to evaluate the problem and asked for nearby residents to be patient as they work to correct the problem.
"MarkWest has engaged outside experts and engineering consultants to investigate various mechanical modifications at the plant and will be testing new equipment in coming months to further mitigate flaring incidents," McHale said in a news release. "This process involves custom manufacturing and may take some time to fully test and implement. We appreciate the community's continued patience and understanding and are working diligently to identify a long-term solution."
The DEP has already issued a notice of violation to the company, but spokesman John Poister said they have made no decisions on a fine and ruled out shutting down the plant. He said they sent more investigators to the plant on Thursday after learning of the renewed problems.
"They're dealing with some sophisticated equipment, maybe some they have never had before, and sometimes it takes longer (to fix)," Poister said. The company submitted a "control plan" in late July, but Poister admitted the continued issues could force PA-DEP to accelerate the timeline to find a solution.
"We have a feeling that the changes should be implemented sooner than later," Poister said. "We're pushing to shorten the duration of the control plan. That's what we're in discussions with right now, and this latest series of events will probably hasten that."
But state Rep. Jesse White, D-Cecil, questioned why the PA-DEP has not yet mandated air-quality monitors at the plant so that residents could be alerted if there is a problem. He also questioned MarkWest representatives, who said after the last flaring that the events were planned and automated safety systems worked as expected.
"That may be technically accurate, but if the batteries in my smoke detector are working, my house can still burn down," White said. "It's clearly causing pollution."
Poister said residents have alerted the PA-DEP of the smoke each time, and he asked them to remain vigilant if they suspect problems. "We've been paying a lot of attention to this, and we are very happy to get the feedback we have been getting from residents," Poister said.