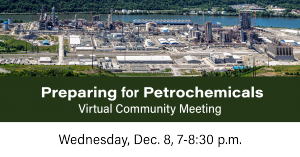 What You Need To Know! The Shell Cracker Plant as a Neighbor and Stranger! December 8th from 7 to 8:30 PM
FORUM from the Beaver County Marcellus Awareness Community, November 24, 2021
An event on December 8th to discuss community issues and concerns as the Shell petrochemical plant nears start-up operations.
The on-line evening will be facilitated by Sr. Kari Pohl, Coordinator of Justice and Peace Ministry for the Sisters of St. Joseph of Baden.
Topics and Speakers for this free public meeting include:
>> Shell Plant Overview – Dr. Clifford Lau, Duquesne University (featuring photography by Ted Auch/FracTracker Alliance)
>> Final Permitting and Fenceline Monitoring – Adam Kron, Earthjustice, and Karl Koerner, Clean Air Council
>> Petrochemical Health Impacts – Dr. Ned Ketyer, Physicians for Social Responsibility PA and SWPA Environmental Health Project
>> Air Pollution Monitoring – Ana Hoffman, CMU CREATE Lab, Mark Dixon, BlueLens
>> Water, Noise, Light and other Pollution – Terrie Baumgardner, Clean Air Council, Beaver County Clean Air Outreach Coordinator
>> Emergency Response System – Mr. Eric Brewer, Beaver County Emergency Management
>> Texas Experiences – Fenceline Watch, Houston, Texas
>> Q & A for all speakers
A link will also be provided to a Community Resource web page with information on health, safety, and documenting and reporting pollution events.